Support our Scholars
The INI has partnered with the Executive Women's Forum, sponsored by Alta Associates, to offer the EWF INI Fellowship to graduate students.
Each EWF INI Fellow expressed compelling personal struggles combined with strong desires to overcome their obstacles and establish careers in technology fields. The EWF INI Fellowship supports full tuition costs in order to ease financial worries for these students. In addition, they gain access to mentors who have reached executive levels in their careers. This intense level support has helped to lift these scholars toward success.
Watch the videos to learn more about their stories.
Meet Erye, Class of 2014, EWF INI Fellow
Goal-minded. That's one way to describe Erye when you consider that her pursuit of a bachelor's degree in Washington, D.C. took her nearly ten years while she worked to support her family. Thanks to the EWF INI Fellowship, Erye began graduate studies in information security last fall worry-free of tuition costs. Since then, she has worked with a top Carnegie Mellon researcher in software security, networked with IT professionals through EWF, and shared her passion for computer science with high school students. Is there a doctoral program in her future? It seems nothing can stop this scholar.
Meet Dolly, Class of 2013, EWF INI Fellow
Scholarships have helped to change the lives of women, even in self-defeating circumstances. After working quietly for some years as a software developer in Kenya, Dolly set her eyes on graduate studies at Carnegie Mellon University and was met with a boost of encouragement from the INI and EWF. "When starting at CMU, I struggled with being in a new culture and new education system, and I really wasn't sure I'd make it. Although it started out with challenges it has been one of my greatest life-changing experiences," she said. The EWF INI Fellowship propelled her to academic success and connected her to a summer internship with American Express. Dolly graduated in May 2013 with a master's degree in information security and now applies her newfound knowledge and leadership skills as an advisor for Ernst & Young. Dolly said the scholarship changed her life by giving her "a new direction"—one that she wanted.
Meet Jonida, Class of 2013, Tara Darbyshire Fellow
Growing up in a household with two engineers as parents, Jonida developed an early foundation in the sciences and a strong drive to succeed. She also learned first-hand about the struggles that immigrants face after her family moved from Albania to Greece, and she later applied this sensitivity and special knowledge to helping out other Greek immigrants as their computer tutor when she was a young adult. Her ambition led her to seek graduate studies in software management at Carnegie Mellon University. Through the INI, Jonida was awarded the Tara Darbyshire Fellowship, whose namesake and sponsor is a founding member of the EWF and co-founder of the Archer Foundation. Upon graduating in May 2013, she accepted a full-time position at VMware as a member of technical staff.
Graduation 2013 Moment: The EWF & INI Honor Dolly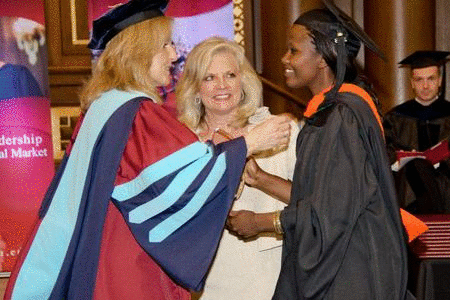 (created with gickr.com)

Help Expand Our Reach
Inspired by the work of the EWF INI Fellowship, the EWF Founder and Alta Associates CEO Joyce Brocaglia established a fund to that allows others like you to contribute towards the support of future scholars from under-represented minorities.
Give Today
You can support the Joyce Brocaglia - Executive Women's Forum Endowed Fellowship in the Information Networking Institute by clicking the Donate button below and entering your gift amount next to the "Joyce Brocaglia - Executive Women's Forum Endowed Fellowship."
Learn more
Scholar Photos